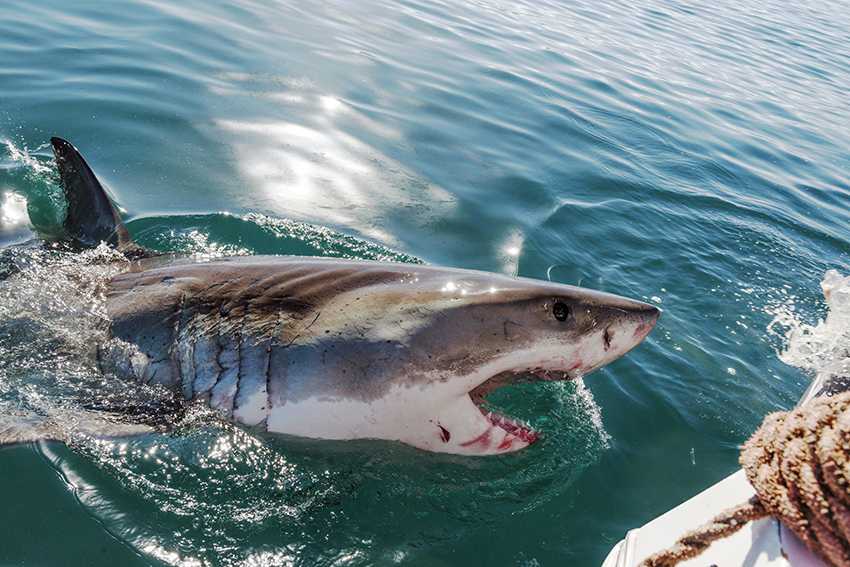 From the Board of the ASL:
All-Species List Top Ten
Dog
Elephant
Tiger
Lion
Octopus
Great White Shark
Grizzly Bear
Pig
Wolverine
Mountain Lion
Others knocking on the door…Gorilla, Leopard Seal, Orca, Hawk, Hippo, Wolf, Ocelot, Rhino, Crocodile, Yak, Snow Leopard, Raven, Swift and Polar Bear.
–Canberra, Australia: "A diver who was mauled by a 4-meter (13-foot) bull shark near the Great Barrier Reef was flown in stable condition to an Australian hospital for microsurgery to an arm, a paramedic said Sunday.
"The 55-year-old man had been free diving with friends in the Torres Strait from a boat chartered from the Queensland state city of Cairns when the shark attacked on Saturday afternoon."
I've been to Cairns, and took a boat out to the Great Barrier Reef, but just ended up drinking a lot of beer and making new friends on a little resort offshore.  No diving.  Didn't see any sharks.  But we knew they were out there, sports fans!
In this case the bull shark came up from behind the man, who was 50 feet under water, and aside from severe injuries to his arm, he was bit in the stomach.  Yikes.
I don't know how this guy survived.  Understand that he swam to the boat, and then the boat took three hours to reach the nearest medical center due to torrential rain, and then because of the weather, they weren't able to chopper him off the island he landed on until the next day.  I can't imagine the pain…and shock of it all…though the BBC reported he was an inexperienced diver who had been attacked before.
Separately, 'Man' moves up to 337 on the ASL off his rescue work in Italy, aided by sniffer dogs, though we can't move him higher due to further ISIS beheadings in Palmyra.