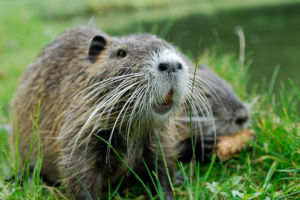 Top Ten as of 1/1/18
Dog
Elephant
Tiger
Killer Whale
Beaver…up from 8
Great White Shark
Grizzly Bear
Polar Bear
Crocodile
Octopus
Others knocking on the door… Pig, Snow Leopard, Gorilla, Hippo, Wolf, Rhino, Yak, Raven, Swift, Mountain Lion, Leopard Seal, Wedge-tailed Eagle (takes down drones) and Komodo dragon.
'Pig' being displaced in the Top Ten is seasonal.  It will be back by summer.  'Beaver' continues to impress with flood control.
'Polar Bear' moved into Top Ten due to many in North America and Europe having 'cold' on their brain these days. This move is out of respect.
'Man' falls one more to No. 374 for being so stupid as to stand outside in the freezing cold for hours and hours on New Year's Eve in Times Square, while not having bathroom availability.
Meanwhile, recently Michelle Cortez had a piece in Bloomberg on Man's Best Friend.
"Having a dog can bring a lot of love into your life. It could also make it last a little longer.
"A group of academics from Uppsala University in Sweden analyzed the health records of 3.4 million people in that northern European country, where databases contain detailed information on everyone's hospitalization, medical history and even whether they own a dog. Such detailed records made it relatively easy to suss out the impact of having a canine companion.
"The results were heartwarming.
"People in possession of a pooch were less likely to have cardiovascular disease or die from any cause during the 12 years covered by the research, according to the study published in Scientific Reports.  The impact was greatest for single people," said one of the authors of the report, Mwenya Mubanga.
"Dog ownership was especially prominent as a protective factor in persons living alone, which is a group reported previously to be at higher risk of cardiovascular disease and death," Mubanga said.  "Perhaps a dog may stand in as an important family member in the single households."
The study authors also noted that dog owners in general have a higher level of physical activity.
Separately, we were reminded in the New York City area last night of the importance of dogs when the commissioner for the NYPD emphasized that more dogs than ever would be deployed for bomb detection.  There are no drug- or bomb-detecting cats.
We'll have a new ASL in weeks.
Happy New Year!
Brian Trumbore